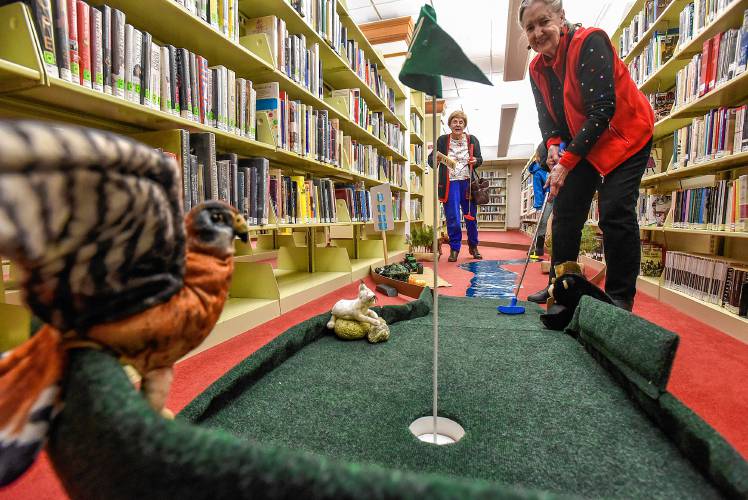 Join the Holbrook Public Library Fund, inc. at their inaugural fundraising event: Putt & Pour. 
Friday, June 9th | 4-8 PM: Putt & Pour featuring Indoor Mini Golf and tastings from Sam Adams, Vitamin Sea, and Shovel Town Brewery.  Tickets are $25/each. 
Saturday June 10th | 9:30-2:30: Indoor Mini Golf at the Library. Tickets are $10 for adults 18+, $5 for ages 6-17, and free for ages 5 and under. 
THANK YOU TO OUR SPONSORS:
ABINGTON BANK
HOLBROOK INSURANCE CENTER
QUIRK AUTO GROUP
HOLBROOK INSURANCE
PATRICK HUNTINGTON
COLONIAL FEDERAL SAVINGS BANK
TROUPE WASTE SERVICES
CANINE COLLEGE
GORDON/CROWLEY REAL ESTATE GROUP
REI ROOFING
LUCKY'S 777 BAR & GRILL
The Holbrook Board of Library Trustees are pleased to introduce to the community The Holbrook Public Library Fund. The Trustees know that there are significant issues with our current library space. The Town of Holbrook has changed significantly since 1967 when the building opened and with more housing being built, will continue to grow and change. The building is too small for the size of our community and doesn't meet the current needs of a 21st century library, with a lack of meeting rooms / programming space, no quiet study areas, no group project space, and no storage. Additionally there are ongoing flooding issues of the one Meeting Room and the elevator, which makes the lower level not ADA accessible.
 
The Library Fund's priority is to raise money for capital expenses - like a new building, a major renovation, or perhaps an addition and renovation. They will do this through events, fundraisers, talking directly with donors, and reaching out to businesses and corporations. Their first goal is to raise enough funds for a feasibility study. The Library Fund is a legally registered 501c3 nonprofit organization solely dedicated to the Holbrook Library's future.
 
The Library Fund would like to invite the community to their first fundraiser. This event is in two parts over two days. On Friday, June 9th from 4-8pm is an ages 21+ event called Putt and Pour. Enjoy local breweries, learn about the history of beer, and challenge your friends, partner, or even yourself to a great mini golf game inside the library. On Saturday, June 10th from 9:30am-2:30pm (open library hours), the mini golf course will still be available for all ages to enjoy.